(Excerpt from Spanish Vogue)
We strive for sustainability in everything we do. Whether we can achieve it is another matter but it's certainly a guiding star. For us that means making use of materials that otherwise would have gone to waste. Of course, durability is also a big concern, we need to create garments that will stand the test of time and garments that when they finally wear out actually deserve repairing. But sustainability also means trying to create timeless designs that age well.
Recycled Leather for a Better World.

Our leather products are made from rescued deadstock skins, repurposed vintage clothing and upcycled post-production waste. That means for some of our production we actually chop up old leather garments that have reached their expiration date in terms of style and turn them into new beautiful jackets and accessories with a vintage soul. This not only gives the product a soft worn-in feel but also makes it a far more sustainable alternative to the average newly produced leather garment. Other times we use offcuts from the garment industry or rejected skins from the tanneries. An increased number of cut-lines in each garment enable us to use what otherwise would have gone to waste. And it adds character!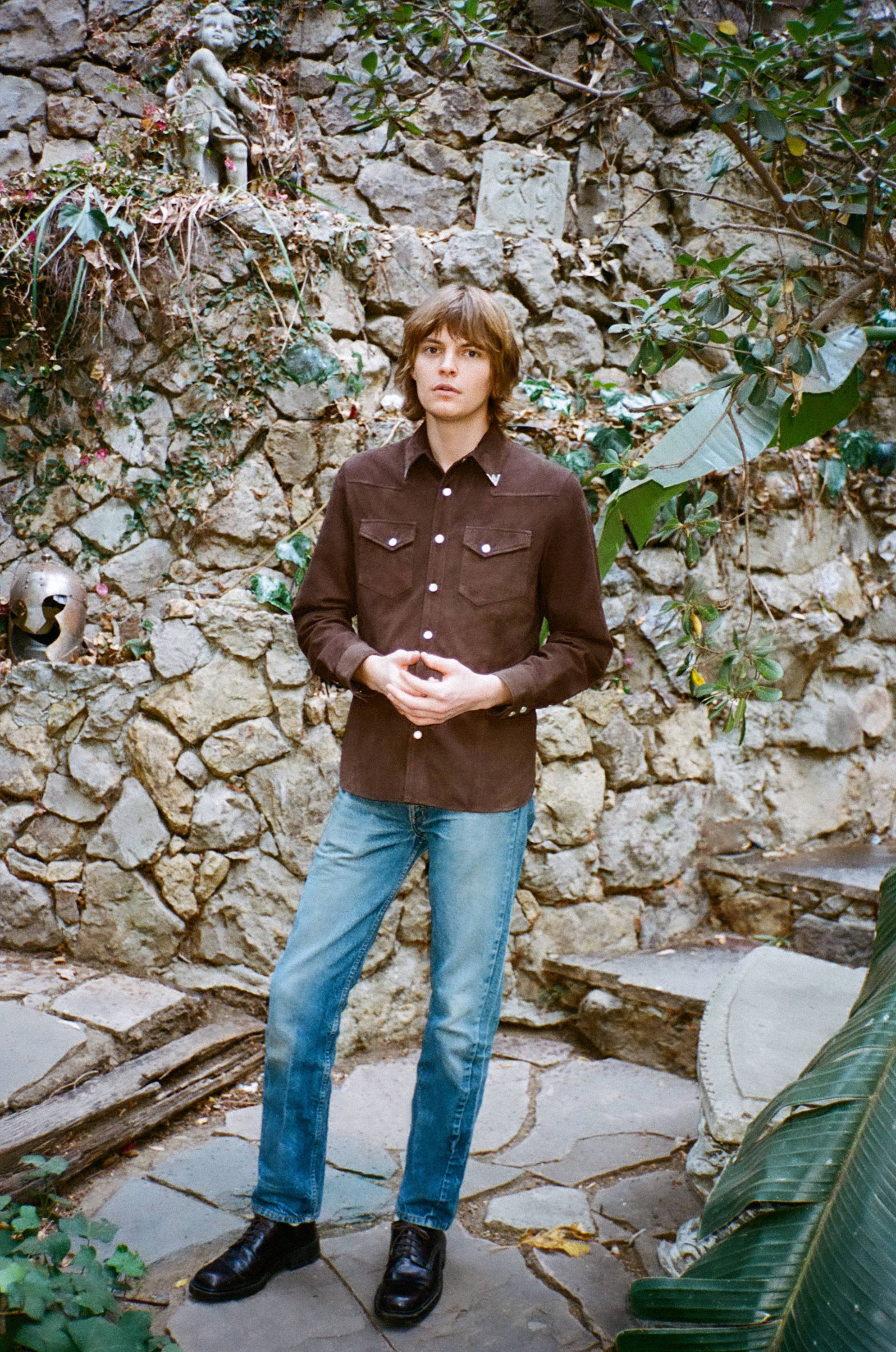 For years the founders of Deadwood have been vocal opponents of the ever so common plastic leather that is being rebranded as "vegan". There had to be a better solution out there for those wanting a truly vegan alternative. The Deadwood team is now proud to present a range of jackets and pants made entirely from a leather-like material derived from organically grown cactus. You heard right, cactus!
Adrian and Marte get out of bed early. It is early morning and the sun has barely lent its first rays of light over the fields of Zacatecas. After putting on their rubber boots the two step out of the barn and into the misty Mexican morning air. Dusty soil makes a whirling pattern in the first breeze. It is time for harvest at the cactus plantation.
The story of these two cactus cowboys and how they are challenging the established ways of the fashion industry really resonated with the founders Deadwood and reminded them of their own attitudes towards the fashion status quo, and their loving rebellion against it.
Once every season the cactus plants are ripe for cutting. Adrian and Marte make sure to select and cut only the mature leaves of each plant without damaging it. These plants deserve to be treated with respect, they are not just any old weed. Cactus is a noble and strong family of plants, adapted to the rough and rugged climate of the Mexican highlands they can withstand even freezing desert nights during winter. In fact, they are the most abundant family of plants in all of Mexico. No irrigation systems are needed as a cactus only grows with rainwater and the earth minerals which are rich around the Zacatecas ravine.
After cutting the mature leaves, they are dried under the sun for three days until achieving the perfect humidity levels. Then the organic raw material is processed to blend into Adrian and Marte's patented formula. A new leather-like material is born.


Felix von Bahder, Deadwood co-founder and chief designer: "I often get asked what I think of vegan leather and I always answer 'It's complicated'. Much of the vegan leather out there feels cheap, is not very durable, and doesn't breath. And on top of that it is really bad for the environment. I'm talking about the PU leather or 'pleather' that in recent years has been rebranded 'vegan leather'. It's basically plastic and it comes with all the downsides of plastic, like being non-biodegradable and toxic. Unfortunately, this is still the most common type of vegan leather alternative out there. I understand that people don't want to support factory farming and if animal welfare is your top priority then pleather could of course be an alternative, it's cheap and looks almost like the real thing. But at Deadwood we felt there had to be a better solution out there. This is why we were so thrilled when we came in contact with Adrian and Marte and their cactus leather!"


The aim with this new material was to create a cruelty free, sustainable alternative, without any toxic chemicals, phthalates and PVC. The result is a durable, organic, sustainable product can replace the use of virgin animal leather and other synthetic materials.. The material itself resembles leather to a remarkable degree in terms of elasticity and being customizable and breathable. The plantation is located in Mexico and is fully organic, free from herbicides nor pesticides. All the remaining organic cactus material which is not used in making the cactus leather goes on to being used in the local food industry. It does not get any greener than this. In March 2021 Deadwood present their very first capsule collection made entirely from vegan cactus leather. The line consists of jackets and pants, some of which are unisex. All for a better world.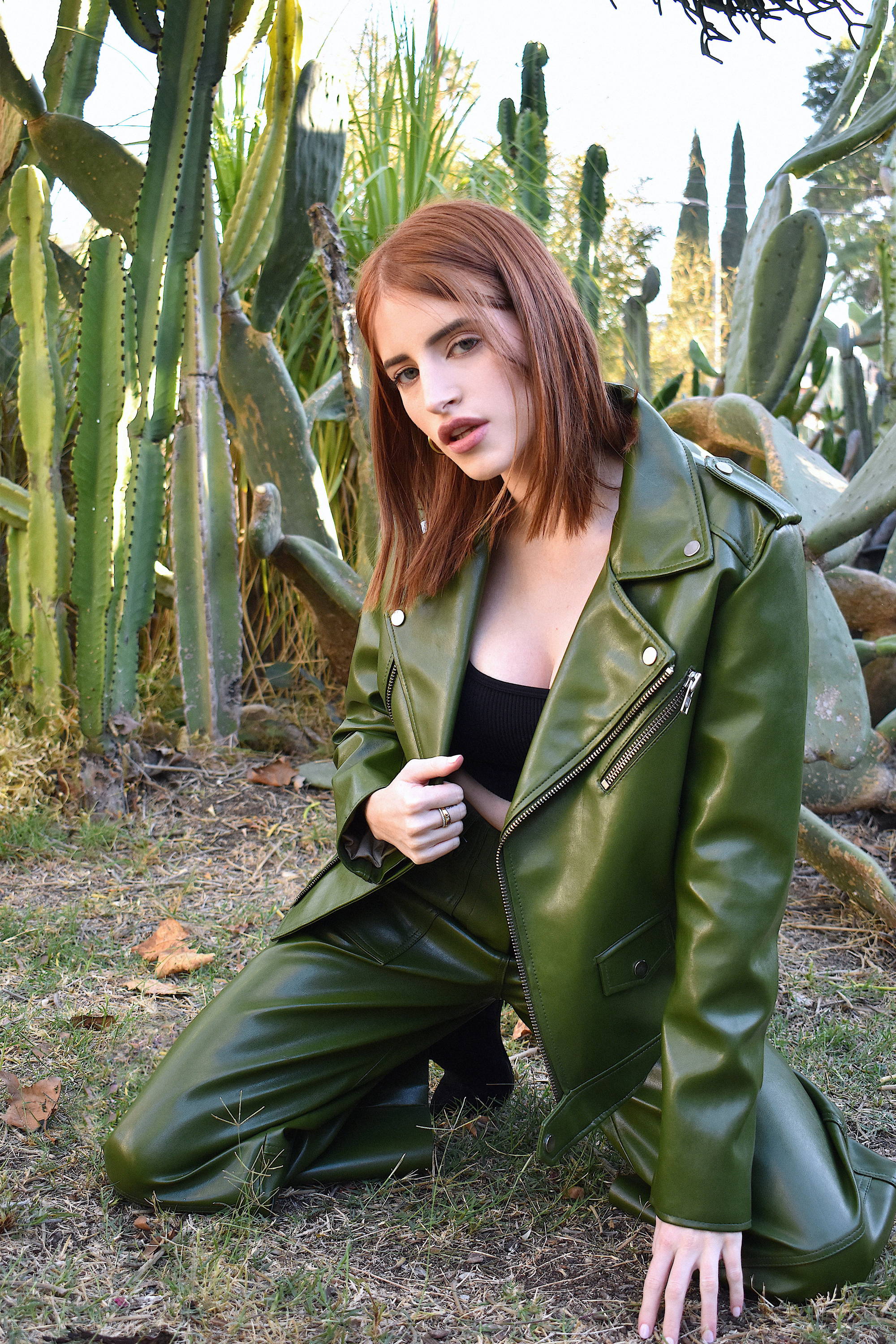 Deadwood's approach is far from fast fashion and anxious design. We will never be about reinventing fashion. Instead, Deadwood sets out to reinvent how we think about fashion. We are about rebooting iconic styles, gently updating them with a modern touch and inspiring customers to buy and wear consciously. Our collections are updated bi-annually and contain a large core of iconic carry-over styles, all in line with our idea of slow fashion.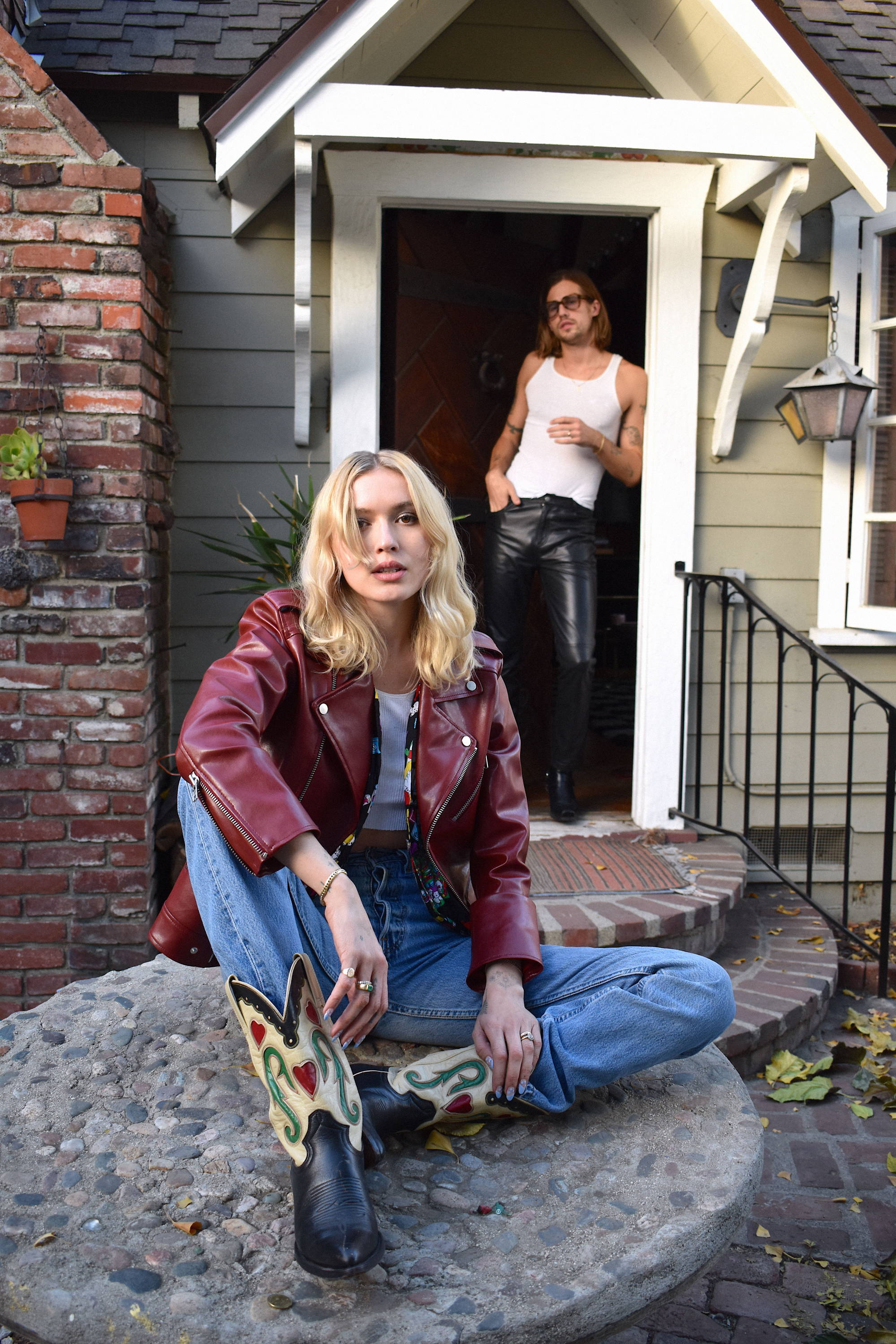 Are Deadwood leather jackets environmentally sustainable? 
In short, they are better than all the rest!
Deadwood's leather jackets are made of 100% recycled leather which is our way to contribute to a saner fashion industry. However, the question is difficult to answer since the concept of "sustainability" depends on so many factors. Would it be possible to scale up our production into infinity? No, obviously our production relies on the previous production of leather garments (which is usually quite strenuous on the environment). But we believe it's always a good thing to make use of existing resources that would otherwise have gone to waste.


What is your opinion on vegan leather? 

(Excerpt from Spanish Vogue)
Felix von Bahder, co-founder and chief designer: I get asked this question a lot and I always try to explain the nuances. You see there is really bad vegan leather, not just bad because it feels cheap, is non-durable, non-breathable etcetera but also because it is really bad for the environment. This is the old type of "vegan leather" which used to be called PU leather or pleather. This is basically plastic and comes with all the downsides of plastic like non-biodegradability and some toxicity. Unfortunately, this is still the most common type of leather alternative out there. Listen, I get that people don't want to support factory farming and if animal welfare is your top priority then pleather could be an alternative, no doubt. It's cheap and looks almost like the real thing. But there are so much better alternatives! Because yes, there are other ways of imitating leather. Recently scientists and farmers have refined ancient methods of using mushrooms and plants as main ingredients in fabric that very much resembles the leather surface with much of its functionality. My favorite at the moment is cactus leather. This is basically a material made from harvesting the nopal cactus, a plant that requires minimal water and creates a beautiful finish. This is why we have released our cactus capsule collection!


Are there any side effects negative for the environment? 

Yes, of course there are. Nobody's perfect. We are not zero polluting; no business or person is. That being said, compared to a new leather garment from any brand out there (or a garment made from cotton or polyester for that matter), our products are made from 100% recycled leather which cuts the impact on the environment into only a fraction. That's why we think our project is good for the world!


Why do you produce your garments in India and not in Sweden?
First of all, there is virtually no garment manufacture left in Sweden. Second of all we are happy to be working with our factory in Noida in north India. It's a fairly small family owned business, thoroughly SMETA-audited by Sedex for working conditions as well as sustainable practices. We have become good friends with the owners and we are impressed by their mindful approach, to life as well as to garment production. No country has it all figured out, but in our eyes India is a wonderful country in many ways. And we would rather contribute to a developing economy than to "aid" an already extremely rich country like Sweden.


What are your working conditions like?
Our working conditions follow practices from the internationally recognized Standards of the ILO International Labour Organisation :
1: Employment is freely chosen
2: No discrimination
3: No child labor
4: Freedom of association and the right to collective bargaining
5: Payment of Living Wage
6: Reasonable Hours of Work
7: Safe and healthy working conditions
8: Legally Binding employment relationship


Do you have any certifications?
All our R-PET lining fabric is GRS-certified (Global Recycle Standard).
For the Cactus Collection are certified with OEKO-Tex Standard 100, USDA Organic, in some instances GRS (Global Recycle Standard), PETA approved etc.
With leather we are in a more difficult position as our idea of leather re-/up-cycling is somewhat rare. Due to the nature of our main material (recycled leather) neither GOTS, nor Bluesign is applicable. When it comes to Fair-trade this is all about paying farmers fair wages, but since our materials are sourced among offcuts and production waste Fair-trade certification goes out the window as well.
Again, nobody's perfect and we're no exception - but we think we're onto something important and it feels great doing it!